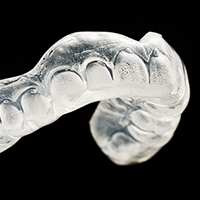 Dr. Igor Lozada offers mouth guards, sports guards, and orthodontic retainers.
Custom-fitted mouth guards are individually designed and made in a dental office or a professional laboratory based on your dentist's instructions. First, Dr. Lozada will make an impression of your teeth and a mouth guard is then molded over the model using a special material. Due to the use of the special material and because of the extra time and work involved, this custom-made mouth guard is more expensive than the other types, but it provides the most comfort and protection.
The advantage of using a mouth guard during sports is that it can help limit the risk of mouth-related injuries to your lips, tongue, and soft tissues of your mouth. Mouth guards also help you avoid chipped or broken teeth, nerve damage to a tooth, or even tooth loss.
Orthodontic retainers are custom-made devices, made usually of wires or clear plastic, that hold teeth in position after surgery or any method of realigning teeth. They are most often used before or after dental braces to keep teeth in position while assisting the adjustment of the surrounding gums to changes in the bone.